Well here I am again with my monthly post. I have been so bad at posting except for the currently. Since this is my first year teaching 4th grade, I am spending a lot of the year getting to know the curriculum and standards! Hopefully next year I can post more and create new things!!
I am linking up with Farley at Oh Boy 4th Grade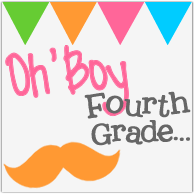 Listening- It's almost bedtime, so the big 5 year old is watching Team Umizoomi, math dragons. My little 2 year old is reading books sitting right smack next to me. I love to hear her "read."
Loving- It's been a long time coming, but my yard is finally looking like a yard. My hubby has done A LOT of work. Last June he tore almost everything out and has been dirt and weeds ever since. He took last week off with me and he got the yard done. He had a little pressure of a certain 2 year old birthday party in 2 weeks!
Thinking-Open house, I definitely like open house in the spring, but not this year, it's on my daughters birthday!!
Wanting- One of the projects in the backyard was to build a garden bed for me to plant in. It's in and ready, I'm so excited!!
Needing- I need to clean my room for open house and finish making the goodie bags for my daughters party. I am hand making Minnie and Mickey bags...thank you pinterest!
Advice- nothing makes me happy except for doing the things I like; like being a fun mom, crafts, blogging, teaching, sewing and what ever new craft I find on pinterest! DO WHAT MAKES YOU HAPPY!
Here are a few pictures from my currently:
The garden box!
Minnie door wreath!

Mickey and Minnie bags!